"Pay it Forward, Pay it Back"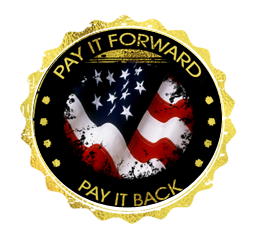 I come from a family of military veterans, police officers, volunteer fire fighters, teachers and coaches. I have watched them all sacrifice more than just time to make the world we live in a better place without expecting much in return. 
Through the "Pay it Forward, Pay it Back" initiative, I will be donating a portion of my earnings in every buyer/seller related transaction to a charity or worthy cause supporting those who support us. My clients can chose between The Aleethia Foundation or Concerns of Police Survivors-Maryland. If you have made it this far on my website and you are considering homeownership, you clearly understand how important these folks are to a strong community. 
When I first saw Pat Tillman speak about his family's military contributions and his views on America in an interview post 9-11, it resonated with me and does to this day. I look at my family's contribution to the world and in Pat's own words "I really haven't done a damn thing." Little did I know that interview and his life would inspire what you see here today. 
While I am not comparing myself to Pat Tillman, because there is no comparison, I am following his lead and giving back to support the greater good. 
I know you have many options to choose from to help you with your real estate needs. I thank you for allowing me the opportunity to serve you and collectively, we can both support those who deserve it the most!